For the first time, Apple is allowing users to continue using iOS 14, even after the launch of iOS 15. So should you update to iOS 15 or stick with iOS 14?

In previous years, the main reason users needed to update their iPhone to a major new OS release was to continue getting important security updates. Apple would release security updates to older devices that could not upgrade to the latest version, but your device was compatible with the new operating system, you needed to upgrade.
In mid-2021, Apple announced that for the first time all users will be able to choose to continue using iOS 14, which will continue to get security updates, after the release of ‌iOS 15‌:
iOS now offers a choice between two software update versions in the Settings app. You can update to the latest version of iOS 15 as soon as it's released for the latest features and most complete set of security updates. Or continue on iOS 14 and still get important security updates until you're ready to upgrade to the next major version.
A good example of how iOS 14 updates are likely to be from now on may be seen with the release of iOS 14.8, a minor update that addressed two specific security vulnerabilities with CoreGraphics and WebKit.
Our guide highlights the reasons why you might want to stick with iOS 14 and helps to answer the question of whether or not you should update to ‌iOS 15‌.
Third-Party Restrictions
If you are unable to update your device due to restrictions from the likes of your school or the company you work for, you may have no choice but to stay on iOS 14. This is a particularly common occurrence on corporate devices that are centrally managed with restrictions on what apps are allowed to run and what updates can be installed.
Sometimes, companies with apps, accessories, or services for internal use may take longer to update them, meaning that they prefer to limit immediate updates to the latest OS, or IT departments responsible for managing such devices may simply prefer to wait until the latest OS is more stable for corporate use where reliability is particularly important.
Since Apple is planning to continue updating iOS 14, this is now a more feasible option, and users can still be confident that they are benefiting from the latest security updates and bug fixes.
App and Accessory Support
Developers and third-party accessory makers have been able to update their apps and products for ‌iOS 15‌ since June when ‌iOS 15‌ began its beta testing period, but not all apps and accessories will have been updated yet. Some developers and companies are slower to update their apps and products. This is more common among less mainstream apps.
Some banking apps are notoriously slow to update to the latest version of iOS, for example, but any app may be slow to update for various reasons. The same applies for ‌iPhone‌ accessories such as Bluetooth camera gimbals or external storage devices that use an app, which could also be affected if they have not been updated for ‌iOS 15‌.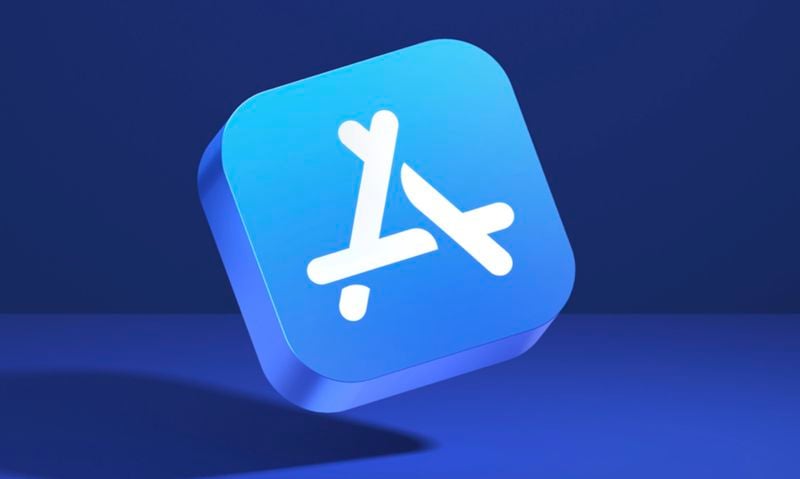 If you are concerned about a particular app continuing to work correctly in ‌iOS 15‌, you should check if the app has been updated for the new OS yet on the App Store. You may also wish to search online to see if any major bugs have been reported.
On the whole, most apps and accessories will continue to work normally in ‌iOS 15‌, but if you are highly dependent on a particular app in your daily life or for work, it may be worth checking if it has support for ‌iOS 15‌ yet. As time passes after the launch of ‌iOS 15‌, more and more apps and accessories will be updated so this will be less of an issue over time.
Most users should not experience serious problems with app support for ‌iOS 15‌, but if this is something that particularly concerns you or you are aware of important apps that have not yet been updated, you should stay using iOS 14 for a while longer until the issues have been fixed.
Bugs
iOS 14 has benefitted from a whole year's worth of gradual bug fixes, meaning that it is likely to be much more stable and reliable than ‌iOS 15‌, which has only just been released. No considerable, debilitating bugs have been reported with ‌iOS 15‌ yet, but it is not uncommon to see minor bugs intermittently throughout the system in the first versions of a major new OS.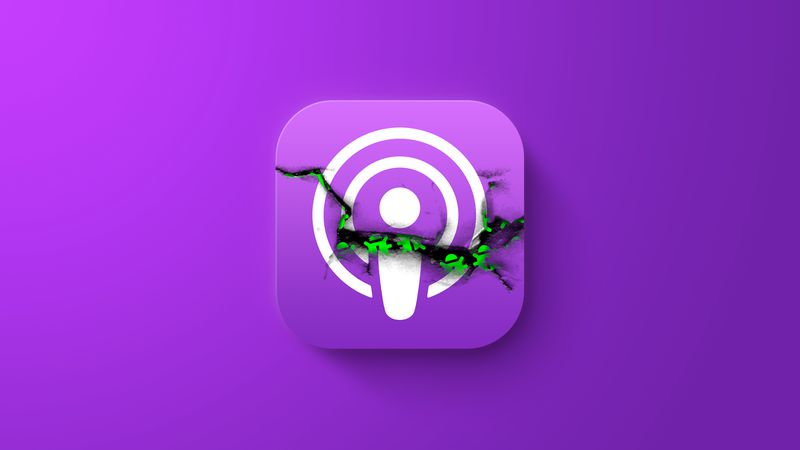 Although ‌iOS 15‌ does not appear to have any crippling bugs, users who prioritize stability may prefer to stay using iOS 14 until a few more versions of ‌iOS 15‌ have been released, giving the OS more time to mature. iOS 14 will not be supported and updated with new fixes forever, but waiting a little longer before switching to ‌iOS 15‌ may give Apple more time to address bugs. This process is already underway, with Apple releasing a number of iterative updates to ‌iOS 15‌ since its launch, each of which has included bug fixes.
Delayed Features
A number of features that were announced for ‌iOS 15‌ were initially delayed, such as SharePlay, which lets users do more in FaceTime calls with options for watching TV together, listening to music, and screen sharing. Other features coming in later updates to ‌iOS 15‌ include Digital IDs in the Wallet app and Universal Control.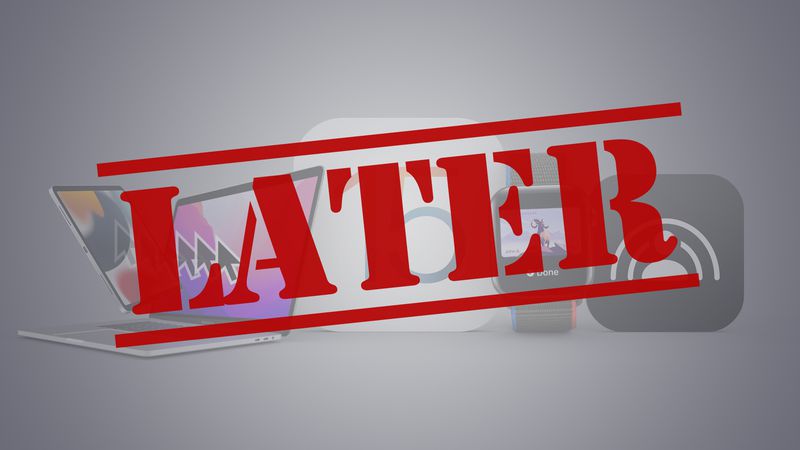 If you were waiting for any of these features in particular as the main reason to upgrade to ‌iOS 15‌, it may be worth sticking with iOS 14 until they are released. For more information on ‌iOS 15‌'s as-yet-unreleased features, read our helpful guide.
New Features
The main reason to update to ‌iOS 15‌ for most users will be to gain a host of new features, such as Portrait Mode in ‌FaceTime‌, Focus modes, redesigned notifications, Live Text, improved Maps, and more.
In ‌iOS 15‌, notifications have been redesigned, adding contact photos for people and larger icons for apps. To reduce distractions, a notification summary collects notifications together for delivery at an appropriate time and arranges them by priority. Focus is a new feature that can filter notifications and apps based on what a user wishes to focus on at a certain time.
Elsewhere, Safari features a completely new design with controls that are easier to reach with one hand and an ability to easily swipe between tabs. Tab Groups allow users to save tabs and easily access them across devices, and there is also a customizable start page and web extensions for the first time.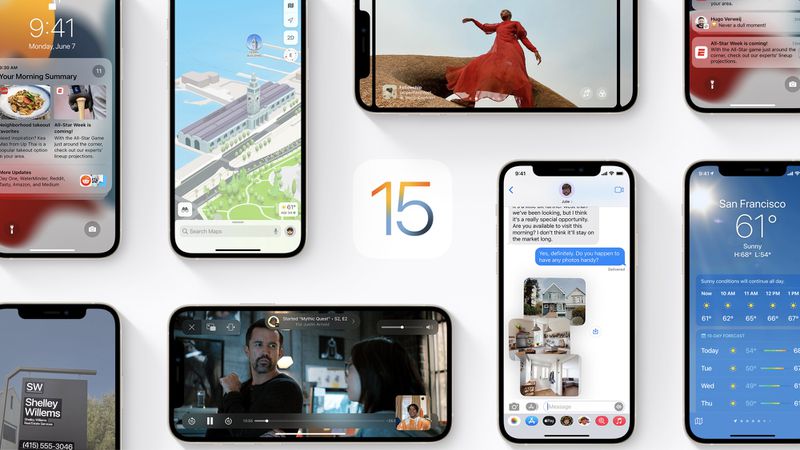 The Weather app has been completely redesigned in ‌iOS 15‌, while the Maps app now offers a new 3D view in cities with enhanced details, a new city-driving experience with added road details, improved Transit features, and more.
‌iOS 15‌ brings Portrait Mode, voice isolation, and Spatial Audio to ‌FaceTime‌ calls, and Memories in the Photos app have been redesigned and now support integration with Apple Music. A new feature called Live Text uses on-device intelligence to recognize text in a photo that users can highlight and copy, and Spotlight search has also been enhanced.
There are dozens of tweaks and changes across the whole OS and its apps, such as user-created tags in Reminders and Notes, a new sharing tab in the Health app, and a systemwide "Shared with You" feature for highlighting content that has been shared in Messages conversations.
For a more exact breakdown of all of the new features in ‌iOS 15‌, see our comprehensive roundup.
Final Thoughts
‌iOS 15‌ is a significant update that brings a whole raft of improvements and new features that most ‌iPhone‌ users are sure to appreciate. Getting all of these new features is the main reason to update to ‌iOS 15‌ and many users are already enjoying the update following its launch in September.
Nevertheless, there are some good reasons to stick with iOS 14. You should stay using iOS 14 if:
Otherwise, it will be worthwhile to update to ‌iOS 15‌ and enjoy all of its new features. Past a certain point, Apple will likely drop support for iOS 14 and encourage all users to update to ‌iOS 15‌, so as your circumstances change, you should update to ‌iOS 15‌ when you are ready to do so.
If you're planning on staying with iOS 14, you should note that ‌iOS 15‌ is shown as an optional, alternative update in Software Update menu in the Settings app. Ensure that your device is not set to install software updates automatically and simply select the latest version of iOS 14 to update to as new versions are released by Apple.
Note that once you update to ‌iOS 15‌, there is no easy way to roll back to iOS 14, so be sure not to accidentally update to ‌iOS 15‌. When you eventually decide to update to ‌iOS 15‌, simply select the ‌iOS 15‌ update in the Software Update menu and follow the process as normal.